Key Points:
Coinbase Premium Index Surge: A Look into the Data
US Investors' Impact: Uncovering the Connection with Bitcoin's Recovery
Coinbase Premium and Institutional Players: Analyzing the Complex Dynamics
Recent data suggests that the Bitcoin Coinbase Premium Index is on the rise, indicating potential US investor involvement in the market recovery.
Unveiling the Coinbase Premium Index Surge
The Bitcoin Coinbase Premium Index, a metric comparing Bitcoin prices on Coinbase and Binance, has seen a notable uptick lately. This index helps gauge whether buying or selling pressure is stronger on Coinbase. A positive index value suggests increased buying pressure on Coinbase, potentially driven by US-based investors, who are known to favor this platform.
US Traders Powering the Recovery?
The trend in the 7-day Simple Moving Average (SMA) Bitcoin Coinbase Premium Index reveals an interesting dynamic. While this month has witnessed a negative index, recent news of rising prospects for BTC spot ETF approvals in the US has turned the tide. The index has surged, indicating the involvement of US-based institutional traders in significant buying activities.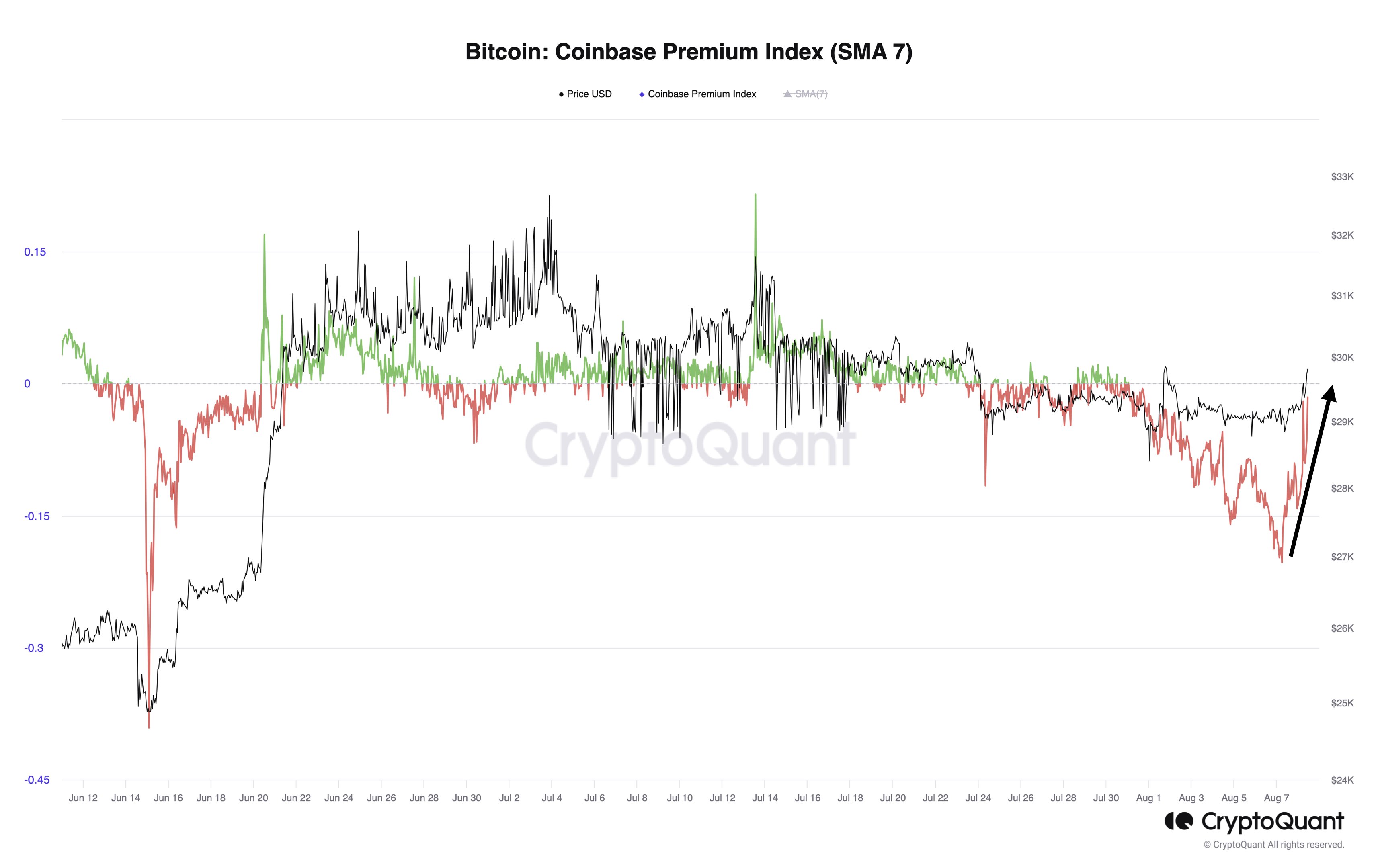 Coinbase Premium and GBTC: A Synchronized Move
The Grayscale Bitcoin Trust (GBTC) Premium, which monitors whether GBTC is trading at a premium or discount, also echoes the positive trend. While not in positive territory yet, the increasing premium suggests a decreasing discount on the fund. This metric holds insights into the buying or selling behavior of conventional US institutional traders.
The Coincidence of Rally and Premium Surge
The timing of the recovery rally, during which Bitcoin touched $30,000 briefly, aligns with the surge in the 7-day Coinbase Premium Index. This correlation suggests that the resurgence might be fueled by American holders' increased buying activities.
BTC's Current Landscape
As of now, Bitcoin is trading around $29,800, registering a 1% increase over the past week. The evolving dynamics between the Coinbase Premium Index, GBTC Premium, and the cryptocurrency's price reveal the complex interplay between investor sentiments and market movements.
In a landscape influenced by global factors and regional dynamics, the Bitcoin market's recovery appears to be drawing significant contributions from US investors. This phenomenon showcases the interconnected nature of cryptocurrency markets and how shifts in investor behavior can influence trends on a global scale.