Key Points:
Solana's inflows stand out amidst significant outflows from major cryptocurrencies.
Bitcoin and Ethereum experience substantial outflows from investment products.
Solana's AUM surpasses established altcoins, indicating growing investor interest.
Investor sentiment in the cryptocurrency market has taken a noteworthy turn in the past week, with substantial outflows from Bitcoin and other crypto investment products. While the market giants experienced significant fund withdrawals, Solana (SOL) emerged as a standout, attracting strong inflows and showcasing its potential.
Analyzing the Investment Landscape
Digital asset investment products observed a net outflow of $107 million this week, reflecting a growing trend of profit-taking that has become more prominent recently. The CoinShares blog, in a report by James Butterfill, highlighted the acceleration of profit-taking in the past weeks, leading to this substantial outflow.
Bitcoin, the pioneer cryptocurrency, encountered the largest hit, with $111.4 million leaving its investment products. This represents the most significant weekly outflows since March, a time coinciding with increased regulatory scrutiny in the United States. Interestingly, for the first time in 14 weeks, outflows from short Bitcoin positions have ceased.
Ethereum, the second-largest cryptocurrency, also faced outflows amounting to $5.9 million. This combined with Bitcoin's outflows resulted in a total of $117.3 million leaving both assets' investment products within a week.
Solana's Remarkable Rise
In contrast to the outflows witnessed in other major cryptocurrencies, Solana emerged as a beacon of optimism. It experienced the "largest inflows, totaling $9.5 million, the largest single week of inflows since March 2022." This surge propelled Solana's Assets Under Management (AUM) to $89 million. The altcoin's month-to-date inflows of $9.5 million and year-to-date inflows of $25 million indicate a notable uptrend.
Comparatively, Bitcoin leads with an AUM of $24,136 million, followed by Ethereum with $7,820 million and multi-asset investment products with $3,060 million. Solana's AUM, although smaller than that of Bitcoin and Ethereum, surpasses that of established altcoins like XRP, Cardano, and Polygon.
While Solana gained momentum, other altcoins had mixed performance. XRP and Litecoin experienced modest inflows of $0.5 million and $0.46 million, respectively. However, Uniswap and Cardano faced outflows of $0.8 million and $0.3 million, respectively.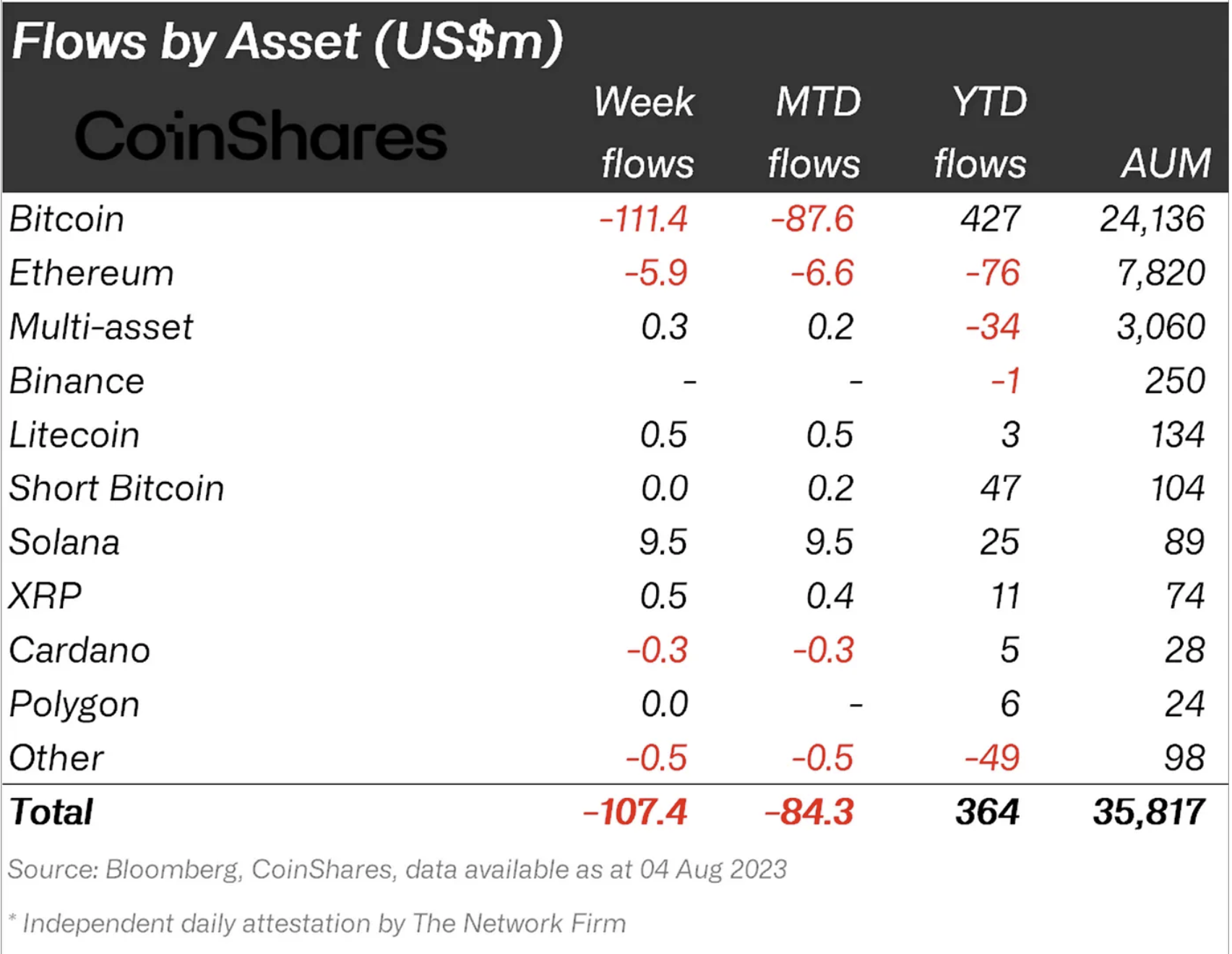 Regionally, the major outflows occurred among ETP providers in Germany and Canada, with outflows amounting to $71 million and $29 million, respectively.
SOL Price Analysis
As of press time, Solana (SOL) traded at $23.05, above the 200-day EMA. SOL's price performance is critical, with potential bullish signs emerging. The defense of the 200-day EMA and a confirmed breakout from the descending triangle could pave the way for further positive movement. Resistance levels lie at the 50% Fibonacci retracement ($24.00) and the 61.8% Fibonacci level ($27.44).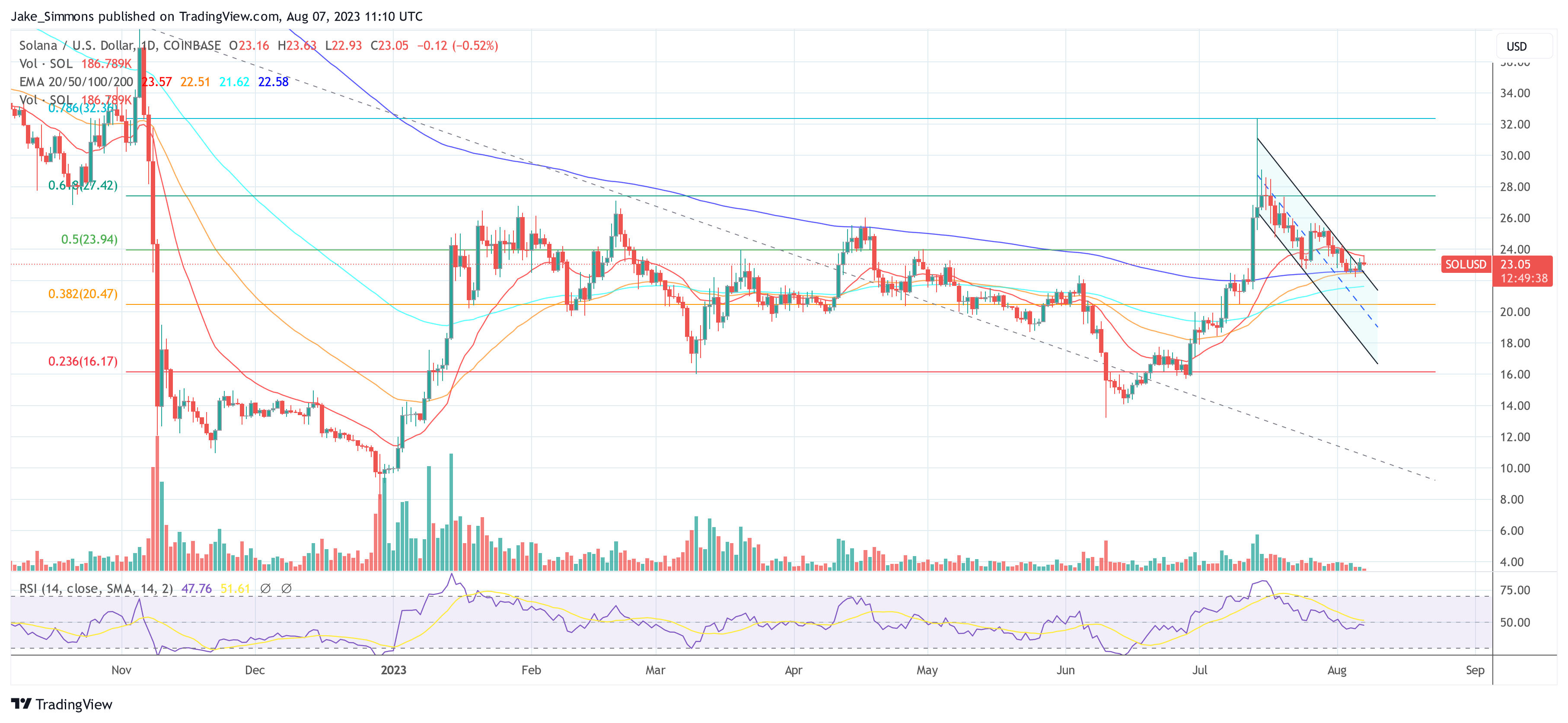 In a crypto market marked by shifts, Solana's rise as a strong contender and its positive performance amidst outflows and fluctuations showcases the altcoin's potential for growth.