Rollbit Coin (RLB) has been on a meteoric rise, gaining 6% in just 24 hours and an impressive 50% over the past week. With its current price at $0.117994, this marks a staggering 100% increase in the last month alone.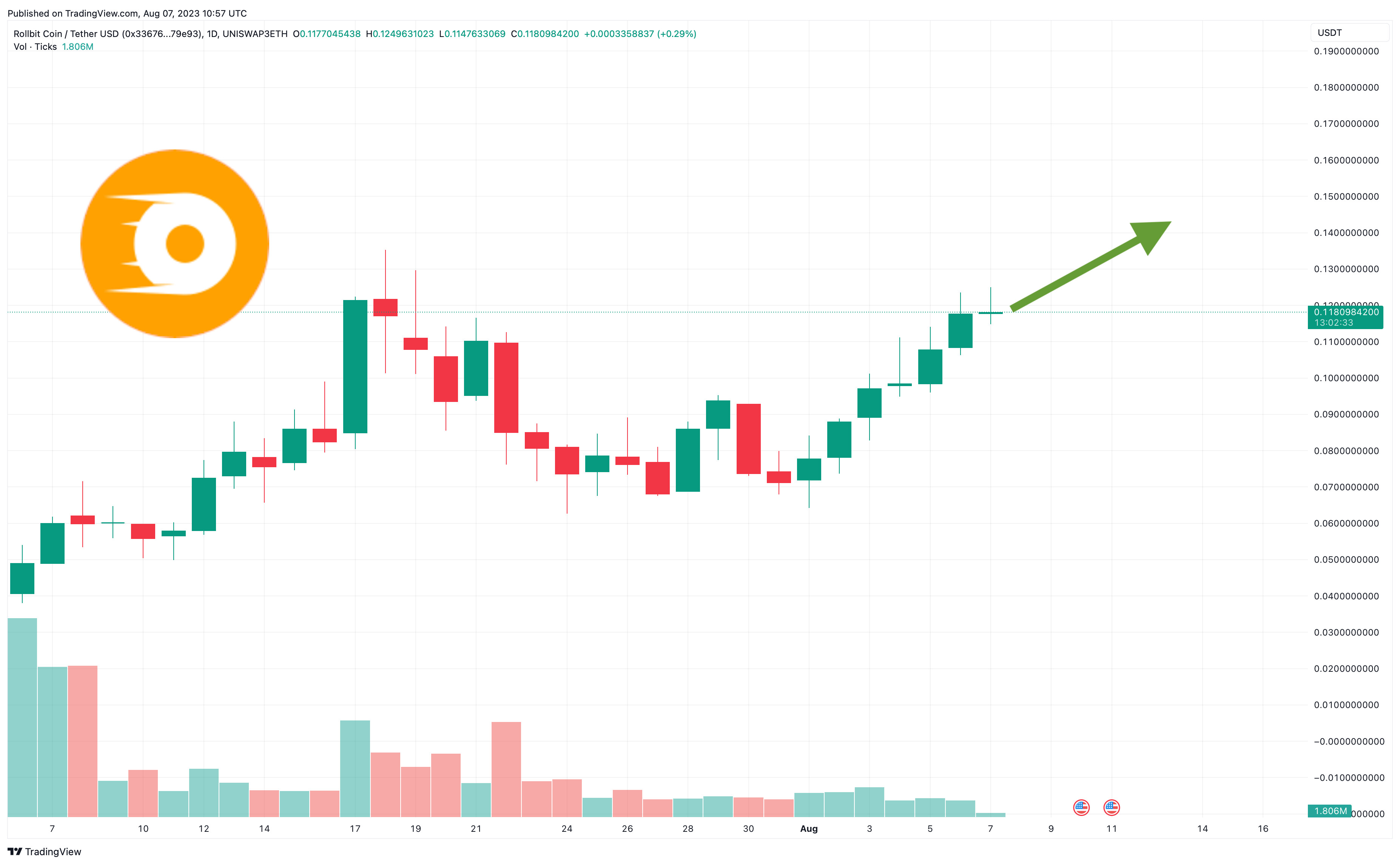 What's even more astonishing is the altcoin's year-long performance, skyrocketing by over 7,000% in the last 12 months. Since its introduction to exchanges in the first half of 2022, RLB has surged by a mind-boggling 12,000%.
The recent surge can be attributed to the major centralized exchange Poloniex listing RLB, which has led to a significant boost in the altcoin's overall trading volume. Despite concerns of potential overbuying, RLB's momentum seems unrelenting, suggesting further rallies may be in the cards.
Technical Strength and Momentum Indicator
Rollbit is undoubtedly a standout in the current top-100 coin market, particularly when it comes to technical indicators. RLB's relative strength index has surged to 70 in recent days, indicating strong ongoing momentum that could persist for some time.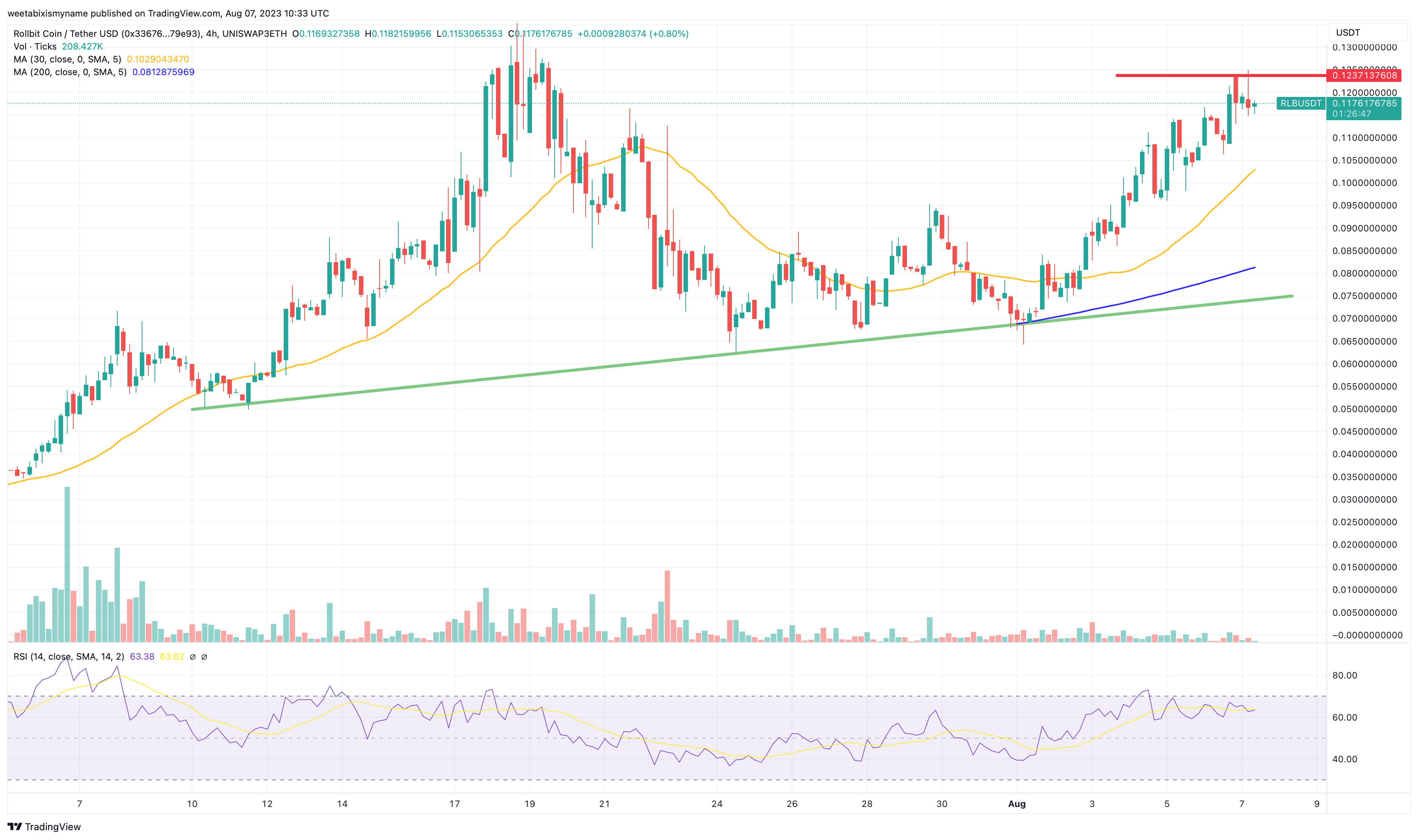 The coin's 30-day moving average has also been climbing steeply above its 200-day average, signaling the potential for more upward movement before momentum subsides.
Promising Factors Fueling Rollbit's Growth
The Poloniex listing isn't the only factor propelling RLB's recent rally. Its migration from Solana to Ethereum in late June has played a significant role in its growth trajectory.
Rollbit Coin #RLB is Poloniex newest listing! 🚀@rollbitcom

Deposit will be opened on August 4th, 10:00 (UTC)

August 4th (UTC), Post-only mode will be enabled on 10:00 & Full trading will be enabled on 11:00https://t.co/td8aOGinsX#Crypto #newlisting pic.twitter.com/tiXrGqS64s

— Poloniex Exchange (@Poloniex) August 4, 2023
Furthermore, indications suggest that whales are actively purchasing RLB, suggesting a continuation of its upward trajectory. The emergence of Rollbit as a decentralized casino, along with its projected revenue growth, adds to its attractiveness.
🏆 Despite criticism around owners, margin trading, and more, Rollbit is projected to hit 9 figures in revenue this year, a testament to its soaring popularity.

(Source: @FloodCapital) pic.twitter.com/49y7QObM9l

— Alphanomics 💧 (@Alphanomics_io) August 7, 2023
Future Prospects and Price Prediction
While RLB's current state may indicate some level of overbuying, experts predict the coin could reach $0.13 in the coming weeks and potentially even hit around $0.20 by year-end.
Exploring Other High-Potential Altcoins
While RLB has shown remarkable performance, it might be nearing the end of its recent rally. Traders seeking gains in the near future might consider exploring other promising presale tokens.
🚨 Futures & $RLB Update 🚨

RLB can now be used to cover trading fees & unlock discounts on Rollbit's 1,000x crypto futures!

With up to 60% discount on fees, Rollbit just became the most competitive trading platform available.

We're not finished there, what's next for $RLB? 🔥 pic.twitter.com/PQvGJxtVZB

— Rollbit (@rollbitcom) July 8, 2023
One such contender is Wall Street Memes (WSM), an ERC-20 token that has gained substantial traction since its presale in June. With strong ties to the meme stocks movement and an engaged community, WSM could experience significant gains upon exchange listing.
With 50% of WSM's supply reserved for presale and another 30% allocated to community rewards, its decentralized nature and motivating tokenomics are likely to attract more investors.
New buyers can participate in the WSM sale through the official website, with 1 WSM currently priced at $0.0331. As the sale progresses to its final stage, the price is expected to increase, potentially surpassing even the $0.0337 mark upon exchange listing.