As of the current writing, the Bitcoin price stands at $27,100, representing a 60% decrease from its all-time high of $69,000 in 2021. With growing anticipation of the next bull market, there is increasing curiosity about the potential future price trajectories for Bitcoin.
Amidst a landscape of mostly speculative predictions, one analyst has constructed a model that relies on historical data to offer insights into potential peaks and troughs in Bitcoin's price over time.
Historical Bitcoin Price Trends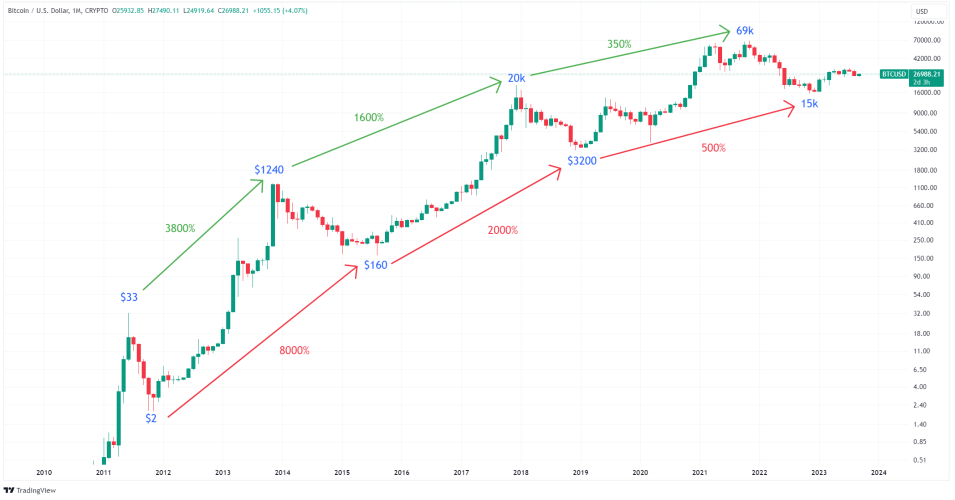 Since its inception, Bitcoin has exhibited extraordinary growth, providing significant rewards to early, long-term investors. This growth is evident when assessing Bitcoin's price from its low points to its high points and between successive peaks during bull markets.
For instance, in 2011, the price reached a peak of $33, followed by a peak of $1240 in 2013, marking a staggering 3800% increase between these two peaks. Subsequent peaks in 2017 and 2021 were $20,000 and $69,000, respectively, showcasing increases of 1,600% and 350%. Similar patterns of growth can be observed when examining Bitcoin's price lows during different cycles.
Interestingly, the relative growth between these cycles has diminished, possibly due to Bitcoin's increased market capitalization, which requires more substantial capital inflows to impact its price. This diminishing growth aligns with a mathematical phenomenon known as logarithmic regression.
Logarithmic Regression Analysis
An analyst has applied various logarithmic curves to Bitcoin's price chart to predict potential highs and lows, using only time as an input. Such models serve as valuable tools for investors by providing a straightforward way to discern possible market trends and make informed decisions in the volatile world of cryptocurrency.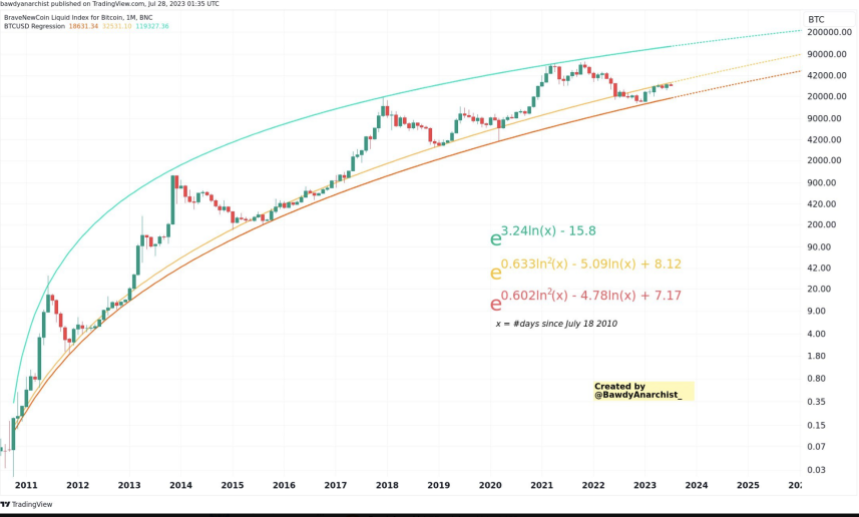 Bitcoin's price tops and bottoms tend to occur roughly every four years, making it possible to forecast potential Bitcoin prices in upcoming cycles based on the logarithmic regression model.
Bitcoin Price Projections
2025-2026: The Bitcoin price may reach its peak in the third or fourth quarter of 2025, ranging from $190,000 to $200,000, before bottoming out around $70,000 the following year.
2029-2030: Bitcoin's price may achieve a peak of $420,000 to $440,000 and then decline the following year to approximately $230,000.
2033-2034: Bitcoin's price could peak between $750,000 and $800,000, subsequently bottoming out around $700,000 the following year.
By the late 2030s, the model begins to lose accuracy as projected peaks fall below projected bottoms. This may suggest a potential stabilization in Bitcoin's price following its peak in the range of $750,000 to $800,000.
Closing Thoughts
While models like this one offer valuable insights into potential future Bitcoin prices, it's crucial to acknowledge their limitations and the necessity for periodic updates using fresh data points. Numerous external factors, including regulatory changes, technological advancements, and macroeconomic conditions, can significantly affect the model's accuracy.
Furthermore, Bitcoin's unique trajectory, having not experienced a recessionary environment, implies a potential vulnerability to more substantial crashes than models might anticipate. Therefore, predictions should be approached with caution and considered alongside broader market analyses and trends, as is the case with any financial model.
Investment Disclaimer: The content presented in this article is intended for informational and educational purposes only. It should not be construed as investment advice. Consult a financial advisor before making any investment decisions, as trading and investing entail significant financial risks. Past performance is not indicative of future results. Nothing on this site constitutes a recommendation or solicitation to buy or sell securities or cryptocurrencies.
__________________________________________________________________________________
Stay connected with us on Google News, Telegram, Twitter, and Facebook to stay updated on the latest developments and engaging discussions in the realm of Crypto News.
Disclaimer: Please note that the viewpoints and perspectives expressed by the author, as well as any individuals referenced in this article, are intended solely for informational purposes. They should not be construed as financial or investment advice. It's important to acknowledge that investing in or trading cryptoassets carries inherent financial risks.