Key Points:
On-chain data reveals rising Bitcoin trading volume.
Volume spikes after crashes or rallies are historically significant.
Sustained volume growth could strengthen Bitcoin's rally.
Recent on-chain data reveals a noticeable uptick in Bitcoin's trading volume, potentially adding momentum to its ongoing surge.
Notable Surge in Bitcoin's Trading Volume Recorded
As per insights from Santiment, an on-chain analytics firm, Bitcoin continues to experience significant trading volumes. In this context, "trading volume" signifies the daily aggregate amount of a particular asset that is being transacted on the blockchain.
Elevated values of this metric indicate a high level of movement of the cryptocurrency in question, implying active market participation by traders.
Conversely, low values of this indicator indicate a phase of reduced network activity, possibly indicating waning investor interest in the coin.
The accompanying chart illustrates the trading volume trend for several key assets in the sector over the past month: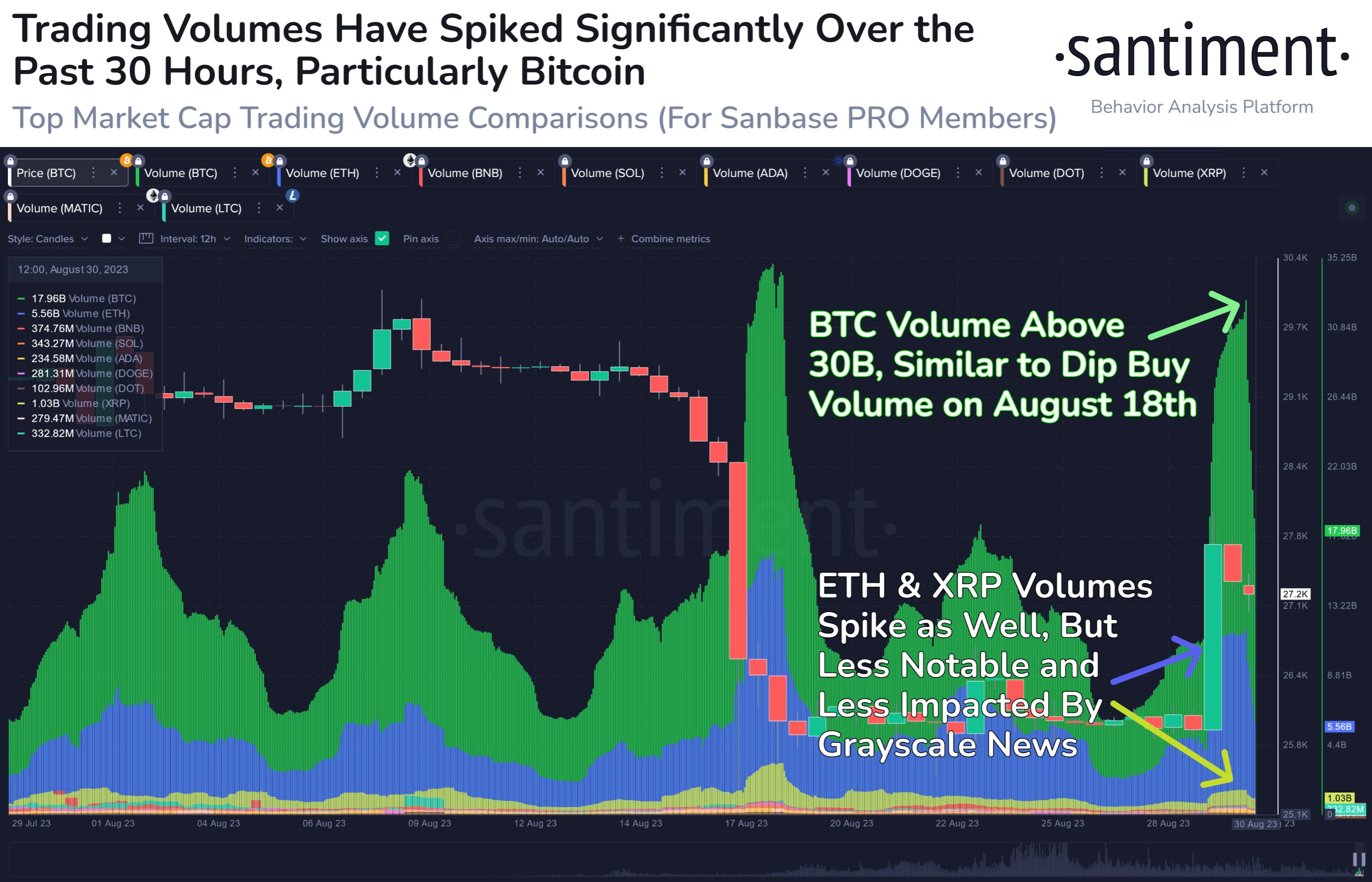 The depicted graph illustrates that major assets have witnessed an upturn in this measure, especially coinciding with recent price rallies. Notably, Bitcoin's exceptional surge stands out prominently.
Ethereum and XRP have similarly experienced notable spikes in their trading volumes; however, their growth trajectories have remained relatively consistent, mirroring Bitcoin's behavior.
During the peak of the recent volume surge, roughly $30 billion worth of the asset was transacted across the chain within a 24-hour period. This marked the highest point for this indicator since August 18th.
Following a sharp drop from $29,000 to below $26,000, Bitcoin's price crash prompted an influx of volume as traders responded diversely—some engaged in panic selling while others seized the opportunity to buy.
Considering that the volume spike coincided with the asset's price bottom, it's conceivable that a significant portion of the volume was directed toward accumulating during the price dip.
Historically, volume spikes following volatile events like crashes or rallies have been commonplace, as these instances capture investor attention. A lack of volume increase during such events could raise concerns.
Substantial price movements typically endure when supported by robust trading activity, implying that sustained volume growth during Bitcoin's ongoing rally is a favorable indication for its lasting surge.
Bitcoin's current trading price hovers around $26,900, having previously surpassed the $27,000 level before undergoing a decline.
Join us on Telegram, Twitter and Facebook for the latest insights and discussions in the world of crypto.