Key Points:
FTX's $500 million investment in Anthropic positions it as a potential savior for users.
Anthropic is in talks to secure $2 billion in funding, with Amazon contributing up to $4 billion.
FTX users await repayment, and Anthropic's increasing valuation might help close the financial gap.
FTX made an early investment in Claude's competitor, Anthropic, before the recent surge in interest in artificial intelligence (AI).
Following the collapse of the cryptocurrency exchange FTX, there is hope that customers may eventually recover their funds, thanks to FTX's early investment in Anthropic, the parent company of Claude, which is a rival to OpenAI and is currently experiencing a substantial influx of investment from Google and Amazon.
In April 2022, FTX invested $500 million in Anthropic when the AI startup was relatively unknown. However, with the high-profile releases of chatbots like ChatGPT, Anthropic has now emerged as a prominent player in the AI industry.
Reports suggest that Anthropic is currently in discussions to secure $2 billion in fresh funding this week, as per sources familiar with the matter. This development comes shortly after Amazon announced its intention to invest up to $4 billion in the company. These additional investments could potentially elevate Anthropic's valuation to the range of $20-30 billion.
The FTX 2.0 Coalition, a group representing creditors, speculates on Twitter that if Anthropic reaches a $30 billion valuation, FTX's stake could be valued at around $4.5 billion.
Anthropic to raise from Google at 20-30B valuation, putting FTX's stake at 3-4.5B.

FTX customers now stand to be made whole. pic.twitter.com/Vy9mZc8bEl

— FTX 2.0 Coalition (@AFTXcreditor) October 3, 2023
The exact current value of FTX's holdings in Anthropic remains uncertain, as does the timeline for selling these shares or for Anthropic's potential public offering. Nevertheless, Anthropic's value has surged since Google's investment, which valued the company at $2.7 billion back in February, nearly a year after FTX's initial investment in the startup.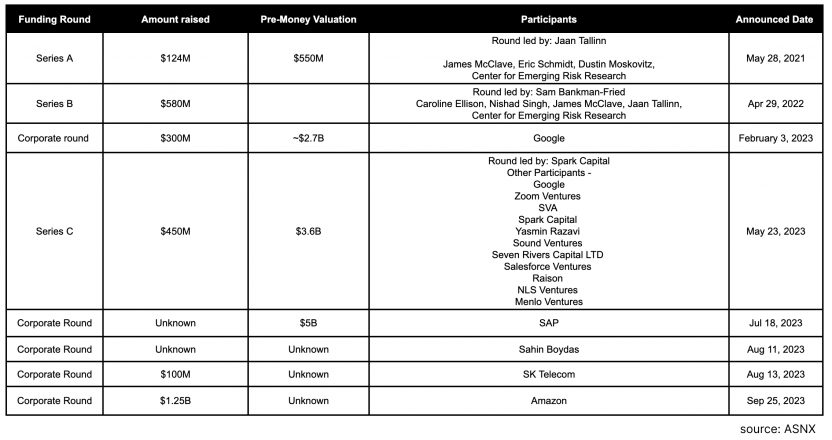 According to recent court filings by FTX, the exchange requires $4.5 billion to fully compensate its customers, while total customer claims amount to $16 billion. FTX currently holds $11.5 billion in assets, which includes its venture portfolio and cryptocurrency reserves. If Anthropic's contributions help bridge this financial gap, it could offer some relief to FTX users awaiting reimbursement.
___________________________________________________________________________________________
Stay connected with us on Google News, Telegram, Twitter, and Facebook to stay updated on the latest developments and engaging discussions in the realm of Crypto News.
Disclaimer: Please note that the viewpoints and perspectives expressed by the author, as well as any individuals referenced in this article, are intended solely for informational purposes. They should not be construed as financial or investment advice. It's important to acknowledge that investing in or trading cryptoassets carries inherent financial risks.