Key Points:
BONE's price witnessed a 6% rise after a significant 55% decline in two months.
Investor pessimism poses a challenge to BONE's recovery efforts.
On-chain data reflects increased loss-bearing transactions, potentially impacting the coin's growth.
BONE, the meme coin inspired by Shiba Inu, has shown signs of a modest recovery after enduring a steep 55% decline over the past two months. While BONE is primarily associated with the Shiba Inu ecosystem, it is gradually establishing its own identity, provided it can attract a sufficient user base to support its overdue resurgence.
At the time of writing, BONE is trading at $0.82, representing a slight uptick of nearly 6% in the past 24 hours. While a 6% increase may seem modest, it marks a notable change considering the coin's recent performance.
Since the beginning of August, BONE's value plummeted from $1.73 to $0.81, accompanied by a bearish signal in the form of a death cross, where the 200-day Exponential Moving Average (EMA) crossed below the 50-day EMA. This decline has been exacerbated by the Relative Strength Index (RSI), which is firmly entrenched in the bearish zone.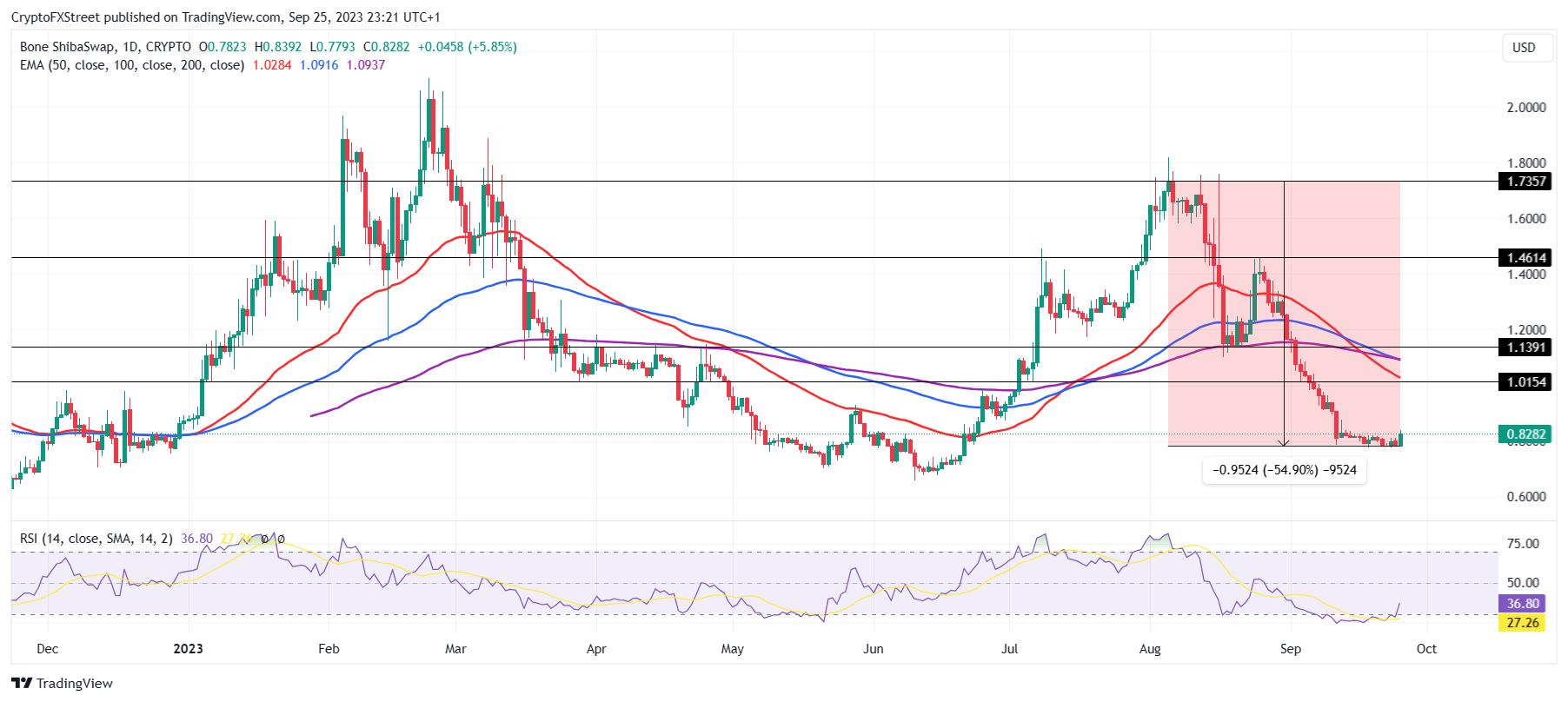 Should BONE continue to decline, it may revisit its year-to-date low of $0.68. However, there is a glimmer of hope for a potential recovery in the long term. If the coin manages to defy the odds and increase by 20% to reach the $1.01 barrier, it could invalidate the prevailing bearish sentiment. Converting this level into support could also transform the 50-day EMA into a supportive factor, reinforcing the possibility of a rally.
Despite this, the chances of a substantial recovery remain unlikely due to investor pessimism. On-chain data reveals that 20.58 million BONE tokens, valued at approximately $16.82 million, were transacted at prices lower than their purchase prices. This surge in loss-bearing transactions suggests that investors may be losing patience and considering selling their holdings. Such selling pressure adds to the overall bearish sentiment surrounding the meme coin.

The impact of this potential selling pressure extends not only to existing BONE holders but also to prospective investors. New addresses created on the network may decline, further affecting network growth, which has already reached a two-month low. This metric is indicative of the project's market traction, and in the case of Bone ShibaSwap, it indicates a limited interest from new investors.

In conclusion, while BONE has experienced a modest price increase, it may not yield significant results as anticipated by the market, primarily due to the prevailing pessimism among investors.
____________________________________________________________________________________________
Follow us on Google News, Telegram, Twitter, and Facebook for the latest insights and discussions in the world of Crypto News.
Disclaimer: The views and opinions expressed by the author, or any people mentioned in this article, are for informational purposes only, and they do not constitute financial, investment, or other advice. Investing in or trading cryptoassets comes with a risk of financial loss.