Key Points:
Bitcoin's price movement amidst changing market dynamics.
The impact of consumer confidence on cryptocurrency.
Predictions and trends shaping Bitcoin's future.
Bitcoin, the leading cryptocurrency, has reignited the interest of investors and enthusiasts as its price experiences an upswing.
As of the latest data, Bitcoin is trading at $26,203, with a 24-hour trading volume exceeding an impressive $10 billion, showcasing a nearly 0.50% surge within the past 24 hours.
Maintaining its top position on the CoinMarketCap rankings at #1, Bitcoin's current market capitalization stands at approximately $510 billion.
Now, with 19,496,412 BTC coins currently in circulation out of a total maximum supply of 21,000,000 BTC coins, the pressing question arises: Is the bull market making a comeback?
Consumer Confidence Index Declines in September
During September, the Consumer Confidence Index from the Conference Board witnessed another decline, settling at 103.0 (baseline: 1985=100), a drop from the revised figure of 108.7 in August.
The Present Situation Index, which measures consumer perceptions of the current business and labor market conditions, saw a slight increase to 147.1 (baseline: 1985=100), up from its previous value of 146.7.
⚠️BREAKING:

*U.S. SEPTEMBER CB CONSUMER CONFIDENCE SINKS TO 103.0; EST. 105.5; PREV. 108.7

*LOWEST SINCE MAY 2023

🇺🇸 🇺🇸 pic.twitter.com/ptggk7cujP

— Investing.com (@Investingcom) September 26, 2023
In contrast, the Expectations Index, which reflects consumers' short-term outlook for income, business, and labor conditions, decreased to 73.7 (baseline: 1985=100) in September, down from 83.3 in the previous month. It's worth noting that this drop pushed the Expectations Index below the critical 80 mark, typically seen as an indicator of an impending recession within the next year.
Bitcoin Price Forecast
Bitcoin's current trajectory indicates sideways movement, with a dip below the crucial support level of $26,500.
Current market conditions suggest the possibility of a further decline, with the notable $26,000 level potentially coming into play in the near future.
Despite multiple attempts, Bitcoin has struggled to breach the resistance level at $27,500, resulting in a noticeable retracement.
This downward movement has pushed Bitcoin below significant support zones at $27,000 and $26,500, indicating a bearish sentiment.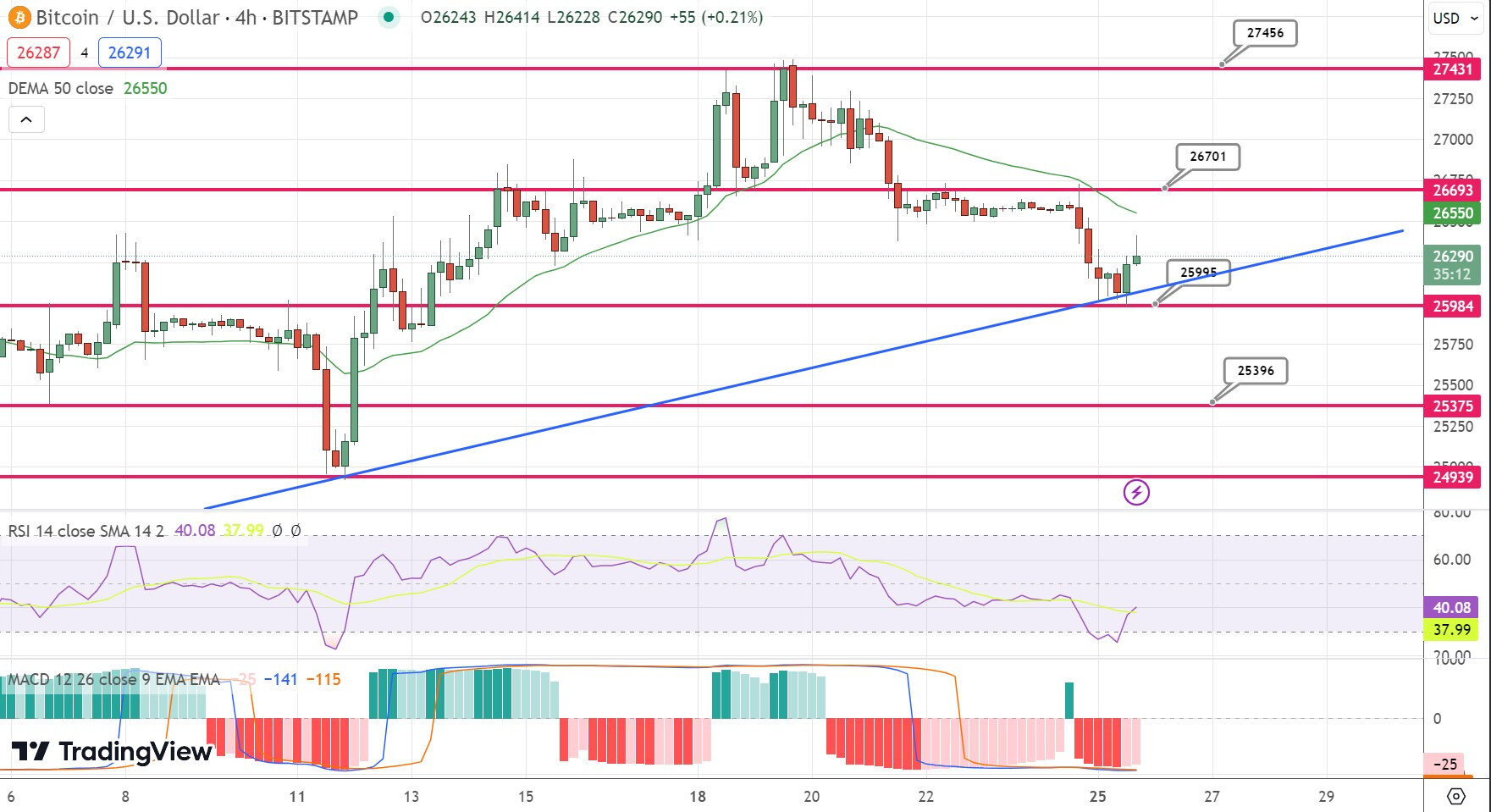 Additionally, BTC briefly dipped below the foundational level of $26,200, approaching the $26,000 mark. However, it has recently hit a low around $26,026, entering a phase of loss mitigation.
At present, BTC is hovering just above the 23.6% Fibonacci retracement level, with imminent resistance levels at $26,350 and $26,500.
Should Bitcoin successfully break the $26,700 barrier, there's potential for an upward trajectory toward $27,000 and subsequently $27,500. Conversely, a failure to do so may lead BTC towards lower support levels at $25,400 or even $25,000.
________________________________________________________________________________________
Follow us on Google News, Telegram, Twitter, and Facebook for the latest insights and discussions in the world of Crypto News.
Disclaimer: The views and opinions expressed by the author, or any people mentioned in this article, are for informational purposes only, and they do not constitute financial, investment, or other advice. Investing in or trading cryptoassets comes with a risk of financial loss.