Key Points:
Optimism's token unlock event involves releasing over 24 million tokens into circulation.
Historical data suggests similar events have led to bearish trends in OP's price.
The event could potentially push OP below the crucial $1 threshold.
The native token of Optimism, known as OP, is currently facing a looming threat as millions of tokens are poised to enter circulation. This impending development casts a shadow over the altcoin's value, which has already been on a downward trajectory following its third airdrop.
Unlocking 24 Million Tokens on the Horizon for Optimism
In its latest token unlock event, the Optimism network is preparing to release over 24 million tokens into circulation. According to Token Unlocks, a website that tracks on-chain token movements, these 24.16 million tokens are currently valued at approximately $30.7 million.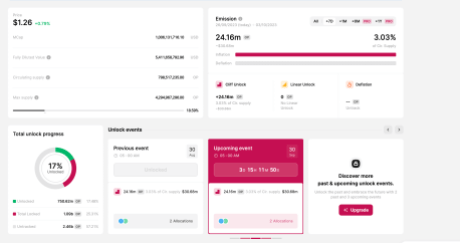 The token unlock event is scheduled for September 30, just under four days from the time of this report. This event will introduce a substantial 3.03% of the total OP supply into circulation at once.
Remarkably, this event occurs merely one month after the network locked a corresponding amount on August 30. Similar to the August unlock, these 24.16 million tokens are allocated to two groups: 12.75 million tokens, worth $16.19 million, will be allocated to Core Contributors, while 11.41 million tokens, worth $14.49 million, are destined for Investors.
The Optimism token unlock event stands out as the largest among a series of token unlocks totaling over $54 million expected to transpire over the next seven days. Notable unlocks include SUI's release of 4.9% of its supply, valued at $16.92 million, and Yield Guild Games (YGG) unlocking 6.7% of its supply, worth $2.55 million.
Assessing the Impact on OP Price
To gauge the potential impact on OP's price, we can examine its historical performance during similar events. Fortunately, we need not look far back, as the last token unlock event occurred just a month ago.
On August 30, Optimism unlocked an equivalent number of tokens, resulting in a negative reaction in the token's price due to the influx of new supply. Initially, OP remained steady at around the $1.5 mark, but after the unlock, the token's price sharply declined from $1.5 to $1.3 within a span of two days.
This historical precedent suggests that token unlocks, particularly of the magnitude anticipated in the upcoming Optimism unlock, typically exert downward pressure on the price. If history repeats itself, OP's price may face further bearish trends, potentially breaching the $1 mark. At a minimum, this influx of new supply could lead to a 10% decrease, leaving OP's price slightly above $1.1.
Even at this moment, OP is already experiencing the repercussions of growing bearish sentiment, with its price having plummeted by over 10% in the past week, bringing it below the $1.3 resistance level.
____________________________________________________________________________________________________
Follow us on Google News, Telegram, Twitter, and Facebook for the latest insights and discussions in the world of Crypto News.
Disclaimer: The views and opinions expressed by the author, or any people mentioned in this article, are for informational purposes only, and they do not constitute financial, investment, or other advice. Investing in or trading cryptoassets comes with a risk of financial loss.